Schools, parents and guardians were invited to attend a Derby Prom Fair hosted at EMA Training's Digital Hub in Derby to choose from a range of prom dresses, from boutique to pre-loved. In attendance were Malinda's Bridal, Moss Bros, Derby and Tiffany Jordan.
With two boutiques, one exhibitor, prom accessories and a photo booth, attendees were spoilt for choice as soon as they stepped foot into the building. The free event catered to all, with not only brand-new dresses and suits but a range of second-hand pieces also. It was a great atmosphere at the Fair, as attendees walked throughout the building on the hunt for their picture-perfect prom outfit.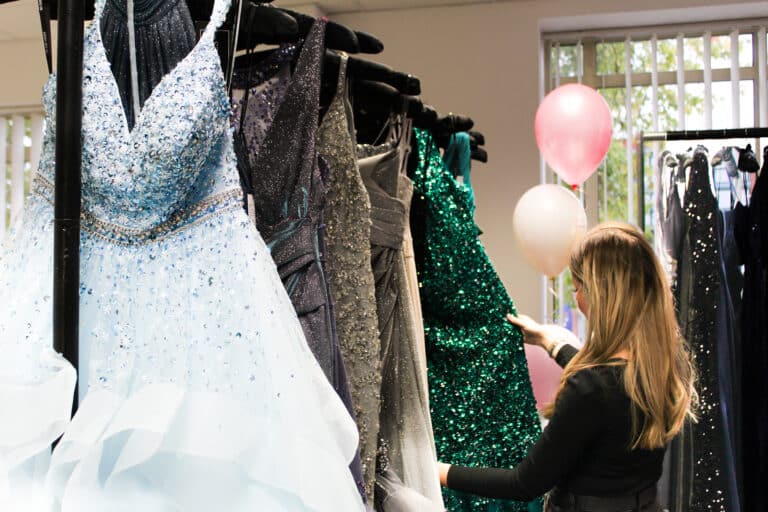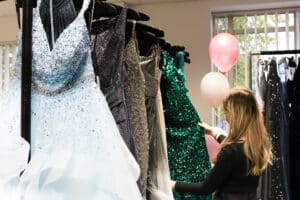 ‍EMA Training work with young people day in and day out and expressed their happiness in being able to provide a steppingstone for students and school leavers to find their ideal outfit for their proms. It was important to the business that they offered a range of pieces, varying in price.
EMA Training recognise that events like a prom should be enjoyed by everyone, but due to the rise in cost of living, there may be some students/ school leavers who worry they may not be able to afford an outfit. Having a display of second-hand prom dresses was important to the company and one of the first elements of the Prom Fair that was set in stone.
‍
The October Prom Fair welcomed 30 year 11 students from schools across Derby and Nottingham. Schools had the opportunity to win big prizes if they brought a certain number of students to the Fair, which included sweet carts, prom letters and a limousine with a chauffeur!
‍
It was a great chance for the schools to treat their students and a fun collaboration for EMA Training to support a local school. EMA Training pride themselves on collaborating with schools around Derby and Nottingham and look forward to hosting events in the future for school students to attend.
‍
EMA Training's Recruitment Manager, Abbygail Maddison, who ran the event, shared a few words, "I have loved organising EMA's second Derby Prom Fair! This year's event was all about giving back to the local community and supporting secondary schools across Derby and Nottingham, to support year 11's 2023 Prom! The event was a huge success, and it was great to see so many students come along, try on the prom dresses and get excited for their big night!"
‍
A special thank you to Malinda's Bridal, Moss Bros, Derby and Tiffany Jordan for exhibiting on the day.
‍The future of the Derby Prom Fair at EMA Training
Looking to the future, EMA Training are looking forward to encouraging more schools to attend their annual Derby City Prom Fair. They hope to welcome more boutiques, exhibitors and schools each year, and look forward to continuing to use their fantastic space to help prom dreams come true! Having been in the 9000 sq. ft Digital Hub for less than a year, EMA Training are excited to explore what else they can use this fantastic space for within the local community, in the Derby City Centre.
‍
If you're interested in showcasing prom outfits at EMA Training's next Prom Fair, please email:[email protected]
To see more pictures from this years' event and to keep up to date with EMA Training, make sure to follow on social media:
Instagram: @ematrainingltd
‍TikTok: @ematrainingltd
Facebook: EMA Training Limited
LinkedIn: EMA Training ltd
Twitter: @EMAtrainingltd
‍