With results day 2022 right around the corner, we want to make sure you know your options after A-Levels so you can feel as prepared as you can be. We have put together a list of frequently asked questions to help you feel less anxious about A-Level results day. Let's go through the important 'need-to-knows' together…
When is A-level results day?
This year, A-Level Results Day is taking place on Thursday 18 August. UCAS will release the information on whether you have been accepted into your chosen universities at 8 am, but due to the high volume of results, you may not be able to access the information due to any lags. Your individual schools will notify you as to when you can collect your results.
What if I am unhappy with my A-level results?
If you find that you're not too happy or even disappointed with you're A-Level grades…
Know that it's okay to feel that way, whether you're frustrated, disappointed, or upset. Take however long you need to feel how you feel.
Don't panic – whilst it sounds cheesy, it's true – your grades don't define you!
You have options after A-Levels! From clearing to starting an apprenticeship, there are more course options out there than you are probably aware of.
What are my options after A-levels?
If you have just received your results and they aren't what you hoped, the good news is, that you have options after A-Levels to choose from.
Appeal your grades
It is possible to appeal your grades. You need to talk to your teacher and school to get in touch with the exam board of the exam result you would like to appeal.
The exam board will check your work and if anything is found your grade could potentially change. It's important to note that this new grade could be higher or lower than your original grade.
‍Re-sit your A-Levels
There is always the option to re-sit your A-Levels if you feel like that's something you would like to do. Have a conversation with your school and see what your options are.
University
Your university offer may still apply if you only missed your grades by a fraction. Make sure to keep track of any UCAS updates. You can also call UCAS on 0800 100 900.
UCAS Clearing
UCAS Clearing Clearing is how unis and colleges fill any places they still have on their courses. You can google universities that have clearing and see if any of their courses are of interest to you.
Have you thought about earning as you learn with an apprenticeship?
Apprenticeships are a fantastic option for any student. With so many course options to kickstart your career, you can:
Earn a wage whilst you learn
Gain real-world experience
Start a career in something you love
All whilst working towards an industry-recognised qualification. There are a lot of myths surrounding apprenticeships, often we can assume they are only for people interested in brick-laying, admin, labouring etc. However, that couldn't be further from the truth!
With an apprenticeship, you can work towards your chosen career path. Choose from the list of apprenticeship courses below to read more about the courses and career paths:
Digital Support Technician
Software Development Technician
Network Engineer
Digital Marketer
Content Creator
Marketing Executive
If you would like to find out more about apprenticeships and where one could lead you:
Email [email protected] or call 01332 371666 to speak with a member of our team
‍
Find an apprenticeship on our vacancies page.
‍
Our doors are open on Wednesday evenings. Why not come down to our innovative training hub, to see how you can kick start your career?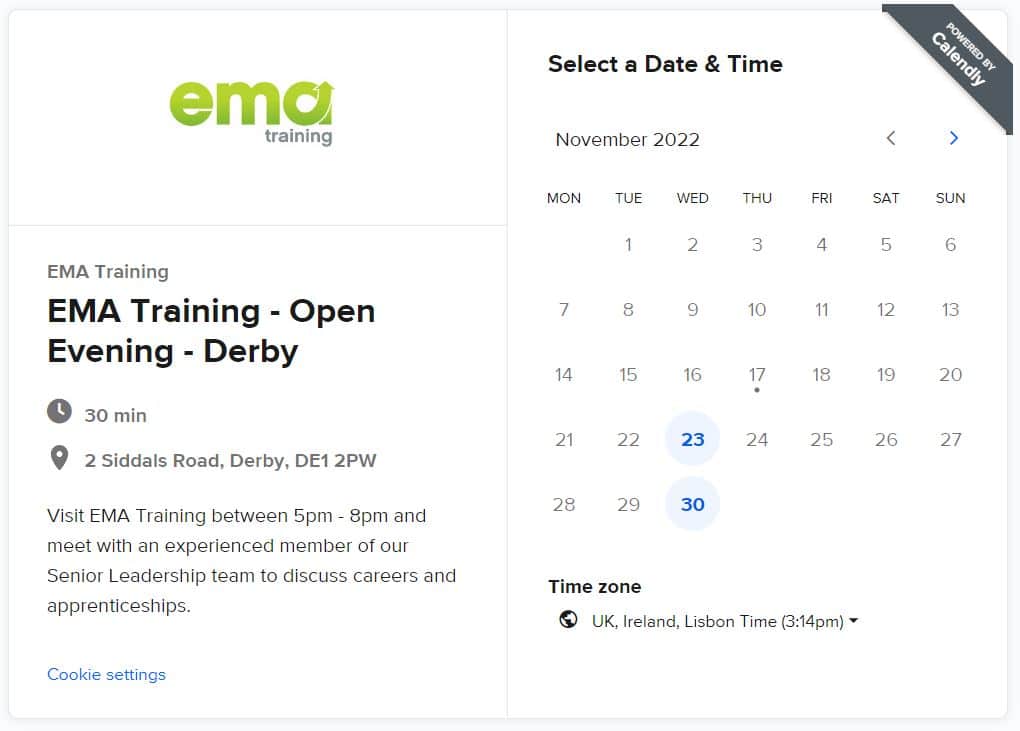 How can EMA Training help?
At EMA Training, we want to support you, in figuring out life after mainstream education. As an Apprenticeship Training Provider, we have a fantastic recruitment team who offer top-tier support, helping you navigate your chosen career as you take your first steps onto the career ladder.
Are you a parent/carer?
We can help you navigate the apprenticeship world and develop a better understanding of what an apprenticeship is, how it will benefit your child and what courses will suit what they are looking for.
Interested to find out more? Call 01332 371666 or email [email protected]
Visit our IT, Digital, and Marketing Careers Fair on Friday 19th August. Doors open from 10am. Get your ticket
https://www.eventbrite.co.uk/e/it-digital-marketing-careers-fair-tickets-387542489017
‍