Everything you need to know!
What is National Apprenticeship Week?
This nationally celebrated week is to recognise the impact of apprenticeships and the opportunities that the apprenticeship industry offers to the economy.
During the week there will be countless companies, schools and Training Providers getting involved and sharing content in line with the National Apprenticeship Week 2023 themes.
The 2023 weekly theme is "Skills for Life", the daily themes are as shown below…
Monday: NAW is live
Tuesday: Employer Tuesday
Wednesday: Apprentice Wednesday
Thursday: T Level Thursday
Friday: Celebration Friday
Saturday: Parents and Carers Day
Sunday: Selfie Sunday
It's a fantastic week and a great opportunity to learn more about the apprenticeship industry! Make sure to follow us, EMA Training, on LinkedIn, Instagram, and Facebook, to see how we make the most of NAW23!
What is an apprenticeship?
An apprenticeship is a fantastic way to start your career and start working full-time whilst still having the opportunity to learn and develop your skills. An apprenticeship allows you to receive top-level support whilst giving you the responsibility of a full-time employee.
Alongside on-the-job training, apprentices spend at least 20% of their working hours completing classroom-based learning with a Training Provider, like EMA Training, which leads to a nationally recognised qualification. An EMA apprenticeship teaches you both the theory (the academic side) and the practical experience you can only gain by working within an industry.
Are there different kinds of apprenticeships?
Yes! There are a vast number of apprenticeships available, ranging from Accountancy to Agriculture.
Within each different apprenticeship course, there are levels. Not every course will offer the entire range of levels, however, there will always be progression pathways available.
See the apprenticeship levels below: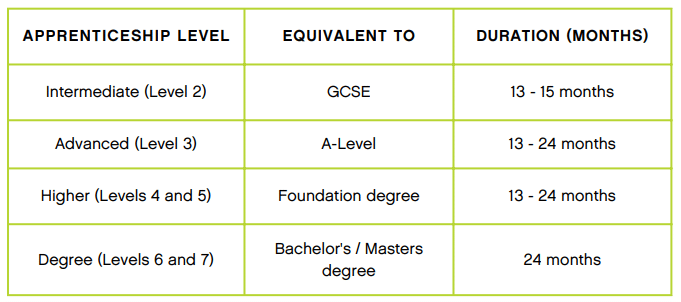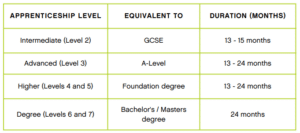 Who can become an apprentice?
There will be different application requirements per course, for example, Level 3 courses
require 5 GCSE grades C/4 which must include Maths and English or an equivalent.
There will also be different requirements for different Training Providers. For example, here at EMA, you must hold a right to work in the UK and be able to commute to either our Derby or Nottingham Training Hub. You also cannot enrol on an EMA apprenticeship if you have completed a similar course elsewhere.
There is no such thing as 'too old' in the apprenticeship industry. As long as you're over the age of 16, you can apply for any apprenticeship.
The apprenticeship journey
How do you apply for an apprenticeship?
There are a variety of ways you can apply for an apprenticeship, two popular options being through the Gov.uk website and Indeed. Apprenticeship vacancies are shared across various other job boards as well – it's important to sign up to these to keep an eye out for the best opportunities! Apprenticeship Training Providers will also have their apprenticeship vacancies displayed on their websites, for example, EMA Training's can be found here.
How do I know which course is best for me?
Here at EMA Training, our Recruitment Team support candidates in deciding which course is best suited to them. They do this by getting to know the candidate's personality, skillset, and ambitions during a thorough screening process. This process consists of a telephone interview, requesting information and checking qualifications. Through doing so, the team are then able to place that candidate onto the appropriate course for them and their career.
About EMA Training
EMA Training is an Apprenticeship Training Provider based in Derby and Nottingham City Centres. Founded in 2013, EMA has since provided specialised training in the delivery of high-quality apprenticeships.
EMA Training offers apprenticeship courses in Finance, IT, Digital, and Marketing. Each course has been put together by field experts, who ensure that apprentices will be learning the needed content but will also be able to use their learning in the work environment.
Working with Employers across Derbyshire and Nottinghamshire, EMA is able to support candidates across the East Midlands to secure fantastic apprenticeships.
Using a blended approach, EMA apprentices are taught through face-to-face, trainer-led delivery, and further supported by their Mentor outside of training sessions. EMA Training works hard to ensure all apprentices receive effective support throughout their apprenticeship to aid each apprentice in reaching their career goals.
If you would like to read more about EMA Training, please click here.
If you would like to see EMA's Apprenticeship Vacancies page, please click here.
If you want to know more about EMA Training apprenticeships, email [email protected].